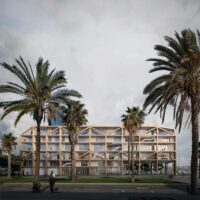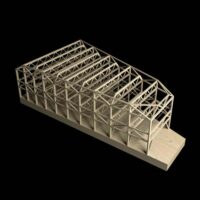 A wooden building, sustainable, light and with an innovative image, built with a complicit look at the past that recalls the old system of building wooden ships.
The pool and porch require very large spaces without pillars.
To be able to do this without major complications, a system of trusses is proposed that occupy an entire floor placed on 2 levels: on floor 2 and on floor 5.
Each of these trusses supports 3 lightweight CLT wood slabs: one at the top and one at the bottom, and suspends braces to hold the floor immediately below.
This allows two floors completely free of pillars (ground floor and fourth floor) and two more floors where there are only tensioners.
The two floors that coincide with the trusses allow perfect passage and offer a very attractive image of the interior spaces.
The perimeter facade is set back from the slab boundary to build a perimeter terrace, protecting the building from the sun. One of the necessary stairs is placed outside, in this space, offering an alternative route.
On this structure of pillars and trusses of laminated wood forged from CLT wood, both interior and exterior enclosures are transparent and opaque modular pieces, with a floor-to-ceiling vertical module that allows the building to be dynamically adapted to its use at all times whatever is needed On the outside, a system of vertical white screens with guides and centralized control protects the building from solar incidence.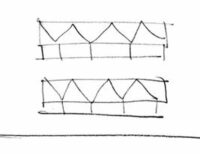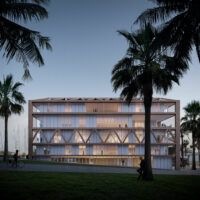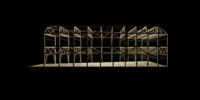 Architecture
BAAS Arquitectura + BOP
Location
Ciutat Vella, Barcelona