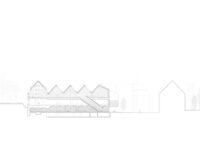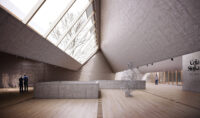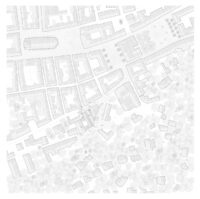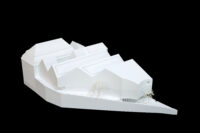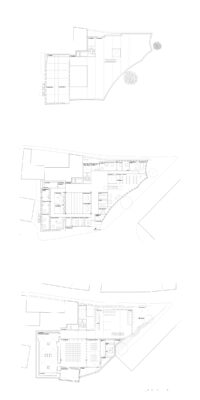 The building frees up the ground floor to form a meeting place, a multipurpose space open to the city, a plan that resolves the unevenness of the plot by building a plinth that integrates the existing wall and extends the public space from the access vertex to the historic building.
For the visitor who enters the building there is only one upper floor: the museum under the gable roof, which is accessed directly through the interior of an inclinated concrete pillar which contains a staircase. The middle floor dedicated to administration and with independent access from Bremeneckgasse street, remains completely hidden in this ascending itinerary as well as from the museum so that the visitors of the building do not perceive it.
The museum occupies the entire upper floor, taking advantage of the natural light provided by the gable roofs with skylights to the north, from where you can see the castle, and allowing you to observe the structure of wooden trusses of the historic building. The courtyard allows the façade of the old building to breathe and be seen from the new volume.