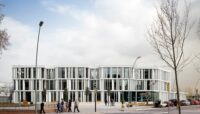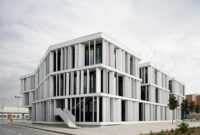 A simple sketch of three vertical bars separated by courtyards on a plinth is dramatically altered by a layer of concrete sheets which give the building a smooth, almost opaque aspect yet transparent from the inside.
The vertical component of the concrete sheets dominates, presenting a new kind of building, emulating the volumes of law books found on the walls of lawyers' and notaries' offices. The concrete sheets are built from different distances and different angles, in some cases to favour views from inside and, in other cases, to prevent being seen from outside.
The building is adapted to the surrounding streets' geometry. However, in contrast, it presents a completely linear north façade due to the train line parallel to the street and also to clearly show its orientation towards the square. When the sun enters the courtyards some of the sheets glisten, illuminated from behind.
The hearing rooms are on the ground floor, with a direct connection to the public space of the square, while the judicial offices are on the upper floors. There are four areas in each corner which allow separate access for judges, lawyers, defendants and the public.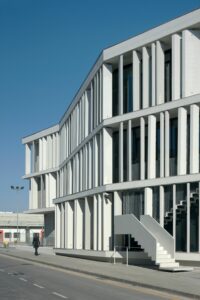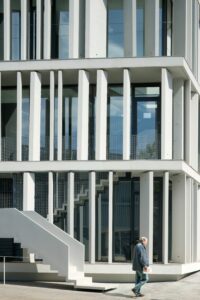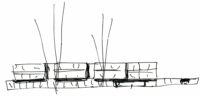 Architecture
BAAS Arquitectura
Location
Sant Boi de Llobregat, Barcelona
Client
Generalitat de Catalunya
Photographer
Duccio Malagamba, Eugeni Pons, Pedro Pegenaute
Finalista Premi Construmat
Primer Premi Catalunya Construcció
Finalista II Triennal de Arquitectura del Baix Llobregat