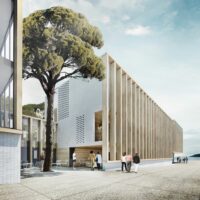 Three light volumes in a unique landscape. A narrow, elongated plot on the seafront and surrounded by an exceptional natural environment. A fragmented volumetry that adapts its scale to the isolated buildings of its surroundings. Three bodies of glass enveloped by wooden slats that seek to guarantee transparency, solar control and privacy, always showing the sea.
The ground floor is intended for the more public use programme, the reception, restaurant and shop, and again the roof will be a collective and playful space around the swimming pool. In the middle, between the two floors, the rooms are located.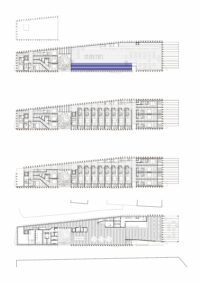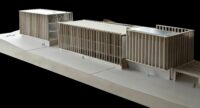 The rooms allow the corridor to be opened up completely, thus encouraging transparency and socialising among guests, as was traditionally the case in hostels. The showers are located on the terrace, taking advantage of the natural light.
A traditional construction of ceramic load-bearing walls, concrete joist floors and ceramic vaults is proposed, all painted white in search of a natural Mediterranean atmosphere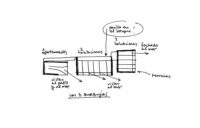 Architecture
BAAS Arquitectura