The most characteristic element proposed in the competition brief was a raised platform with an irregular perimeter that would separate the evacuation of the upper stands from the lower ones in a more efficient way. The project proposes to give this piece an emphatic circular geometry and turn it into an umbraculum, a space that dialogues with the public space around it and with the closest urban environment. The section offers a space of great height and power.
This piece is complemented by another walkway on the highest level that builds a viewpoint connected to the 3rd tier, with views of the pitch, the city, the sea and the mountains. A privileged space on match days, but also of great interest the rest of the year.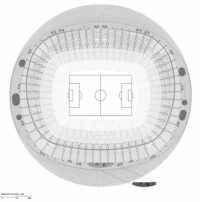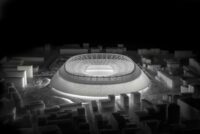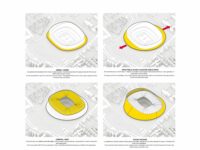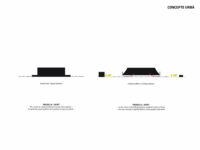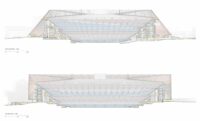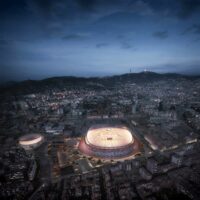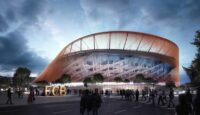 The union of the two rings of different geometry (elliptical and circular) allows the stadium to dialogue differently in the streets where there is less width (vertical façade) compared to the sides that open onto the public space that allow greater width (sloping façade).
The square surrounding the stadium is paved with ceramic pieces, in an attempt to build a space on a human scale despite its large size and to establish links with tradition. The stadium is placed like a lamp that floats on this surface, offering a very light image of the piece.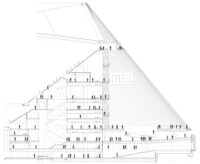 The second big idea of the proposal is the empty space created between the historic Mitjans stadium and the new extension. A space of respect that allows the different layers of the stadium's history to be identified and which is also visible from the stands in the form of a diagonal cut. This cut allows natural light to enter and recalls the characteristic profile of the Camp Nou. The grey concrete of the current building contrasts with the bluish tone of the concrete of the extension.
The large number of evacuation stairs required is taken as a design motif, enveloping the building and turning the descent into a playful and spectacular promenade.
The image of the copper fabric on the blue concrete background builds a blaugrana moiré effect that varies depending on the angle at which you approach it and builds a unique and recognisable image.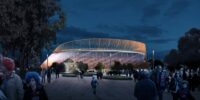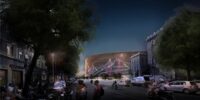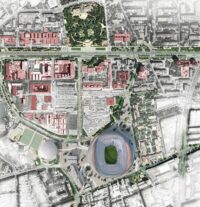 Architecture
BAAS + BIG + IDOM