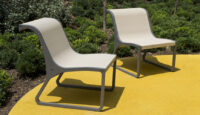 Our intention is to revise the romantic bench in order to make the most of comfort, kindness and ergonomics of curvy lines, without giving up on the hardness and resistance that materials like concrete bring.
We wanted to transmit a feeling of great lightness, in contrast to te weight that is always associated with concrete. This is why, the Concret section is like a beam which is capable of covering a big distance without any points of rest.
We have turned this search into a modular system that allows for the reassembling of straight and curvy pieces to create meeting spaces.