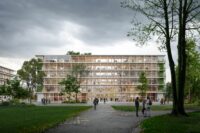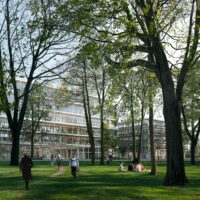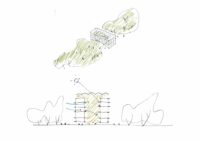 A large inhabited greenhouse which conveys the new values of the 21st century and offers the experience of working in the middle of a garden.
The new building is located between the campus and the park, and due to its location it will become the symbolic entrance to the campus.
We propose, therefore, that the building does not act as a barrier, but that it establishes continuity between the two spaces with vegetation, without interrupting the continuity between them. That is why we do not want to build an opaque volume, but rather a greenhouse that is another element of the park.
The greenhouse, an interior garden full of vegetation, functions as a bioclimatic machine that takes advantage of the sun's radiation to heat the central space and uses this temperate air in the air conditioning of all interior spaces, reducing energy expenditure. The glazed roof, made up of 1,900 m2 of transparent amorphous silicon photovoltaic panels, can be opened completely in the summer, facilitating the movement of air inside.
In this way, we air-condition only the closed work spaces, 29% of the volume of the building, achieving an intermediate climate in the rest of the passage spaces.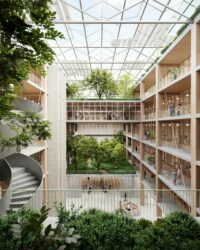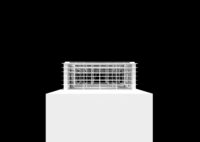 The floor plan of building 1 is structured from four stairs placed at the four corners that build four rigid concrete cores and two program bars on either side of the empty space in the middle. These bars will be built entirely on wooden pillars and CLT wooden slabs. The whole complex is surrounded by a perimeter terrace that allows you to go outside from all the work spaces.
Some parts of the program are designed as bridges between the two bars, and its roof is used to locate the interior gardens on different levels. These gardens are spaces for relaxation and informal gatherings.
On the ground floor, the hall allows you to cross the building from the campus to the park and houses the auditorium, which allows it to be completely open to the exhibition space when it is not in use. The cafeteria also opens up to this space, providing it with activity and life.
On the upper floor, the green roof builds a garden under the glass roof.
Building 2 shares some of the characteristics of its older brother but has its own personality. The central courtyard will remain open, except on the ground floor where it will be covered with glass. The work spaces surround the courtyard around the perimeter and a linear staircase runs through all the levels, generating a unique interior space that at the same time allows the activity in the courtyard to be transparent.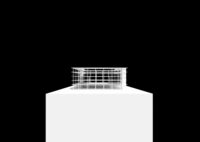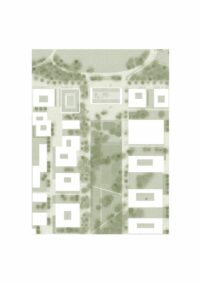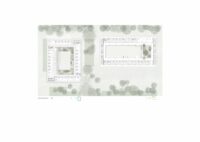 Architecture
BAAS (within GINA) in collaboration with JSWD
Location
Nuremberg, Germany