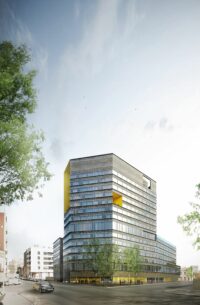 The building responds to the existing planning policies. Inserts a floor plan close by the existing Escocesa building and a tower into the corner.
The project is conceived by a building mass which surrounds this space, becoming a court by itself. The public equipment, provides in the floor plan some geometries which allow breaking the parallelism of the two facades in order to generate a truly square conceived as a students' hub.
The tower is set up around a big interior central court. The bedrooms are situated in the exterior crown while the common living and kitchen zones are situated at the central space. Some terraces appear, depending on the floor plan, in order to allow exterior connection through the central space.